The
Practitioner - Workshop Leader - Tutor - Author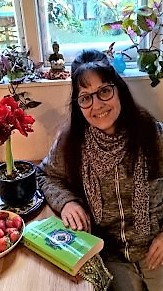 Anushka I.Jordan DGBS, CHP, DHP, CPSH, MTP was originally trained in Psychotherapy and Hypnotherapy, qualifying at The National College for Hypnotherapy and Psychotherapy, UK. She has been in practice since 1983 working with analytical, cognitive, behavioural, gestalt and experiential modes. She also has experience and some training of EFT, TA, Transpersonal Psychology, Energy Healing and Meditation, has obtained a Certificate in Basic Touch for Health Kinesiology and is a Reiki ll practitioner. Further more she studied about Huna and additionally in 1999, has completed training in Shamanic Healing for Practitioners under Leo Rutherford, Eagle's Wing.
In the past, she has lived and was educated in several countries in Europe and South America, gained a Diploma in Business Studies in Germany and worked as interpreter in 6 languages and as language teacher in the UK. She lives in London and is based at The Green Centre. Widely traveled and an explorer of religion, mysticism, philosophy and healing, she is now an experienced Psycho-Spiritual guide.
A. I. Jordan has pursued a life-long quest to explore and understand the mysteries
of human nature and sought for practical applications for the acquired insights in
her work as therapist, self-development facilitator, workshop leader, teacher and author. She is the founder of Transcendental Progression and developed its unique principles and techniques and is the author of 'Finding your Way Home with Transcendental Progression'.

*
Personal Endorsements

Workshop group comments about Anushka I. Jordan:
Generous spirit. Sensitive and caring. Have admired her passion and dedication. Deep, loving, energetic. Deeply well-meaning, forthright. Hilarious, already a friend. Strong and beautiful, learned from her, got strength from her. Warm, safe, listens. Aims for high standards from her work and from her students.

Anushka is a highly talented, thoughtful and considerate workshop leader. She always listens and responds in a way that makes one feel confident and positive about oneself. Mr. S. Sil.

A.I. Jordan is sincere person and a vocational therapist. Her friendliness and warmth immediately open doors to a deeper level of communication. In her therapy I felt to be taken care of and supported and I can recommend her as a therapist to everyone. Mr. T. Lehmuspelto MA Sci