PRACTITIONER TRAINING COURSES
Certificates - Diploma - Master Licence
_________________________________________________________________________________
A Diploma student enjoying his lesson. A recent Certificate Graduation.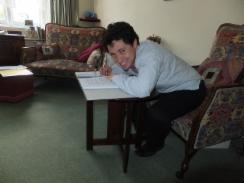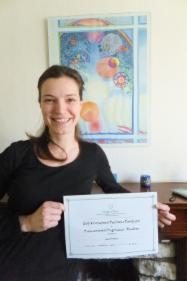 Certificates
Certificate qualifications are achieved by completing modules 1 or 2:

Level 1 Practitioner Certificate.

Level 2 Practitioner Certificate.

Diplomas
The Level 3 Practitioner Diploma is gained by completing all 3 modules.

Master Licenses
This is an advanced option for Diploma holders wishing to become competent to train students in Transcendental Progression and become qualified to award Certificates and Diplomas.
__________________________________________________________________________________

Course Schedules

The modular, flexible format makes this a very accessible training for gaining your professional qualification.

Courses start seasonally. Spring, Summer, Autumn and Winter. Please ask for next date.

Time per Module. Three months per Module in 10 weekly classes. Classes are flexi-time. Class duration is 4 hours each, on a weekend afternoon.
Retreat package. Any module can be combined with a holistic retreat package for an added dimension of experience. ____________________________________________________________

Courses Format

Courses are in groups and individual tuition. They cover theory studies, transcendental dialogue practises, holistic meditation and include some personal therapy. Please view our Transcendental Progression page for work content or ask for our brochure. A free copy of 'Finding your Way Home with Transcendental Progression' is included in the fee.

Concession fees and exchange options are negotiable.




Module 1




Introduction to Whole Self.



F

a

culties.
10 classes i
ncluding 4 therapeutic dialogue sessions and Holistic Meditation.
Student home study and practise. 2 essays. 2 practise cases.
Exams and evaluation. Module fee £700 - reduced rate £500
Module 2




Ego.


10 classes including 4 therapeutic dialogue sessions. Student home study and practise. 1 essay. 2 practise cases. Exams and evaluation. Module fee £700 - reduced rate £500

Module 3




Re-connecting with Higher Self.


10 classes including Higher Self meditation. Student home study and practise. 3 essays, 1 practise case.

Exams and evaluation.

Module fee £700 - reduced rate £500
_________________________________________________________________________________


Insurance Professional insurance cover is offered to graduates by Towergate Insurance.
Qualifying and registration

After completing the course the student will be awarded the relevant Certificate or Diploma and can start practising independently or enter into Franchise collaboration and will be entered in the International Practitioners Register kept by:

T

he

G

reen

C

entre,

London, UK, 0044 (0)20 8578 4431