'Finding your Way Home with Transcendental Progression'
by A. I. Jordan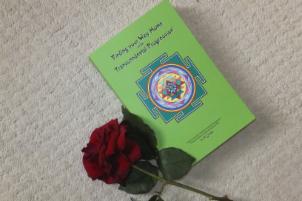 P

ublished and distributed world-wide by John Hunt Publishing, Ayni Books.
Paperback: ISBN 978-1-78099-565-6 and
eBook: ISBN 978-1-78099-566-3
The way it is written and the guidance given throughout, along with the practical exercises and illustrations make it a perfect self-help format for the independent reader world-wide wishing to work on their own.
A map and manual for self-discovery, healing, personal development and finding a spiritual path.
It is used by practitioners, tutors and students as the basis for one-to-one work, workshops and practitioner training courses.
R

eader Reports:
"An amazing and inspiring book which offers much to the reader. I love the quirky style of the beginning and like the interactiveness of the whole book, as well as the actual exercises. The book itself is extremely well put together. It's format reminds me of 'A course in miracles' but 'Miracles' is firmly based in the Spiritual, whereas this book starts with the basics; from an assumption that until we have mastered our lower selves we are hampered in our attempts to connect with our higher selves.
I find also correlations with Jung, Gestalt, Gurdjieff and Kabbalistic perspectives.
The step by step instructions are so clear it's really impossible to get it wrong and
the language is concrete rather than abstract, so extremely reader friendly. I very much agree that this book is needed." K. K. 2011
"I really like this book for quality and content. It's well written and has much to offer to the reader. It has practical exercises and is well put together." M. M. W. 2011
"Transcendental Progression has been personally transformational and has also impacted my creative work as painter." Mr. K. Wallace
"The map of the Whole-Self" describes this book so well; it really addresses the important parts and networks of Self and has encouraged me to open up to discover a whole new world." Mr. T. Lehmuspelto M.Sc.(Tech.)

"There is so much in every sentence! I want to pass this book on to my children so they can also benefit." Mr. Juan Carlos Vittery

Order your paper back or ebook copy from Amazon here